If circumstances arise that you haven't yet received your LESCO bill or have lost it. Then there's no room for worry you can still obtain a duplicate bill through our online bill check option.
Here's the complete step by step guide to get the Duplicate LESCO bill through our online service.
Things You Need:
The two things you're going to need to obtain a full copy of your LESCO bill are:-
Reference Number
Customer ID
These are the numbers you're going to have to provide to check your electricity bill online. And here's how to get them:
Reference No. and Consumer ID are printed on the top of your bill: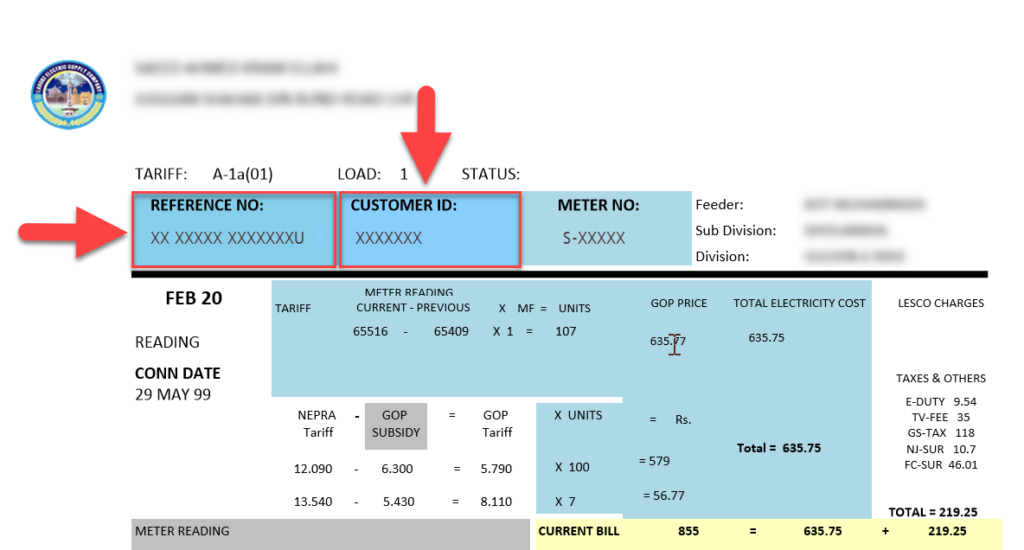 Reference No. contains 14 numbers and 1 alphabet. And Customer ID consist of 7 numbers only.
Check Bill Using Reference No
When you've got the 15-digits reference number you need to insert it in the layout and press the process button as shown below:-

Check Bill Using Customer ID
Another option available to obtain your LESCO bill online is via using Customer ID. It's almost the same as using a Reference No. but in this layout you have to insert Customer ID which consists of 7 numbers, once entered just press process button as shown in the image below:-

LESCO SMS & EMAIL SERVICE
LESCO offers you a complete free of cost SMS and Email service to acquire your electricity bills and supply information.

Step 1: Visit this page
Step 2: Select service: Email only, SMS only or both if you want to be get notified through both SMS and Email
Step 3: Insert your 7-digit consumer id.
Step 4: Insert your mobile number in said format (e.g 923001111111)
Step 5: Insert your email id and press the submit/update button.
How to Pay Your LESCO Bill
Once you have obtained your LESCO duplicate bill then you can submit it via both online or offline options:
Pay Offline: You can pay your LESCO bill to all the branches of commercial banks and post offices. Make sure to bring along a printed copy of your bill.
Pay Online: You can also pay LESCO Bill online through any bank, EasyPaisa or JazzCash. For bank options make sure you have online banking service activated on your account.