How to Calculate LESCO Bill?
If you want to calculate LESCO bill then it is required to know some technical terms that you need to fill-up during using the LESCO Bill Estimator. Let's discuss the each step in detail:
Step 1: LESCO Connection Type:
First you should know about your connection type. In-case if you don't have any idea about it then you can check your type through your LESCO bill, see below image: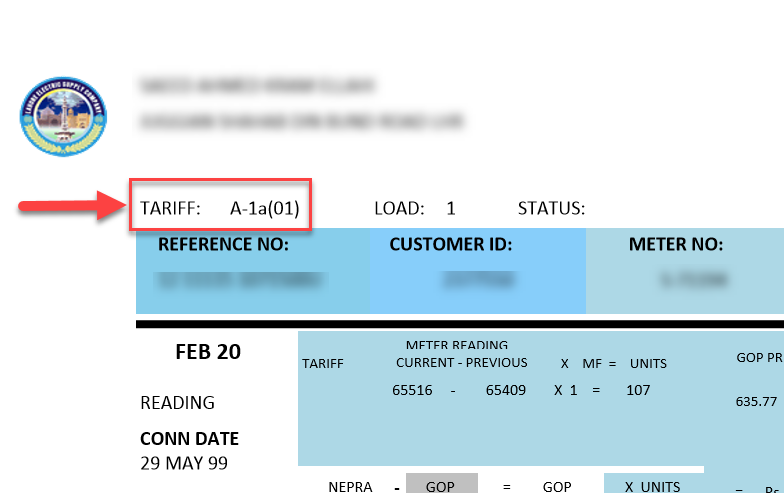 Type of LESCO Tariff

Below is the available connection types that you have to choose from while calculating the bill:
| | |
| --- | --- |
| Tariff Name | Tariff Type |
| A1(01) | Domestic |
| A1(03) | Domestic |
| A2(04) | Commercial |
| A2c(06)T | Commercial |
| B1(07) | Industrial |
| B1(08) | Industrial |
| B1b(09)T | Industrial |
| B2a(10) | Industrial |
| B2a(11) | Industrial |
| B2b(12)T | Industrial |
| A3(66) | General Services |
Step 2: Phase Type
Next step is to choose your LESCO connection phase type from below available options:
Step 3: Units Consumed
Now you have to enter the units that you have consumed and against that you want to calculate the bill. It is available in three below units:
Kilowatt Hour (KWH)
Kilovolt Amperes Reactive Hours (KVARH)
Maximum Demand Indicator (MDI)
Also
There will be two type of unit fields, which are as follow:
You need to identify the both off-peak and peak hours consumed and enter the units' number accordingly. To know about the Off-Peak and Peak hours, visit this page.
Step 4: Meter Rent
Here you need to enter the meter rent incase if it's applicable on your tariff.
Step 5: Service Rent
Same you have to provide the service rent in this field if it's applicable on your plan.
Step 6: Areas
Enter the areas in this filed
Step 7: No. of TV Sets
Here you need to enter the number of TV sets that are functional on your connection.
Step 8: No. of TV Sets
In this step you need to check or un-check on below option accordingly:
STRN Available
Sales Tax for Retailers Exempt
ED Exempt
GST Exempt
IT Exempt
ETax Exempt
Additional Sales Tax to Marble and Granite Industry
Step 9: Final Step
Finally this is the final step to calculate the LESCO bill, after adding all above mentioned info you need to hit on the press button and it will result you the estimated amount of LESCO bill.
That's it…
---