Are you looking for LESCO (WAPDA) jobs? Yes! Then continue to read the whole process and procedure to find and apply for LESCO jobs:
LESCO New Jobs Opening
First of all you need to keep an eye on the opening of new jobs in LESCO (WAPDA). For that you can visit our website, read newspapers or visit NTS website.
Option 1: Visit LESCO Website
You need to keep visiting LESCO site to get an update on new jobs. Once you found the new job opening then next step will be to read the whole job advertisement like eligibility, qualification, age limit, terms and conditions etc. Below is the sample of LESCO Jobs advertisement in 2019: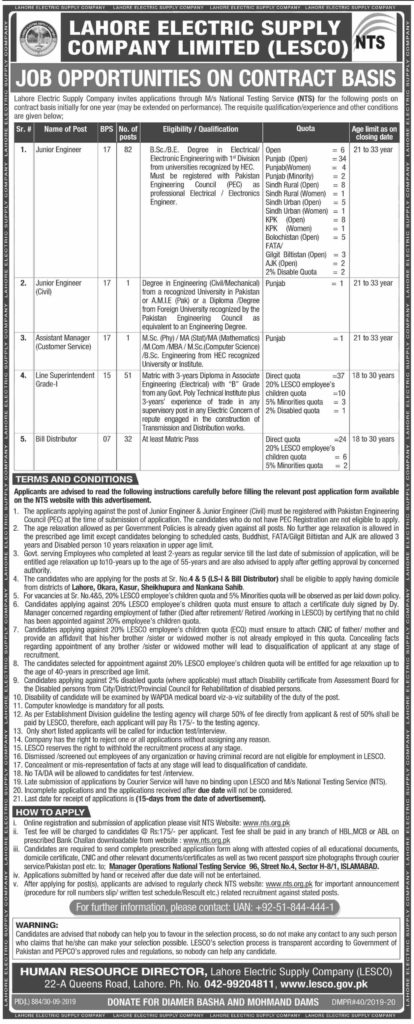 Option 2: Visit NTS Website
LESCO advertise about new jobs through National Testing Service (NTS) as well, infect candidate have to apply online through NTS to join test for LESCO jobs. NTS conduct test on the behalf of LESCO and announce the results accordingly.
Option 3: Read Newspapers
You need to continuously read the newspapers and look for LESCO jobs, with this practice you can get jobs update on your own behalf.
How to Apply for LESCO Jobs
Once you identified the new opening then next step will be to apply for your desired job in LESCO (WAPDA). For that you need to follow below steps:
First of all read the LESCO WAPDA job advertisement carefully and match the requirement like eligibility, qualification, quota, age limit, terms and conditions and most importantly last date to apply etc.
Visit LESCO official site to apply for LESCO jobs online

OR

Visit NTS official site to apply for LESCO job test, here you can register and submit the application online for desired job.
There can be a test fee that you have to pay in designated banks (see that info in job advertisement) and to pay this fee you need to download the fee challan first from the NTS website.
Then candidate is also required to send the complete application form and attested copies of required documents like domicile, CNIC, educational documents, two passport size of photo and other relevant documents through courier on mentioned address in the job advertisement.
Once you done with these processes then you are requested to regularly visit the NTS site for important update and announcements related to your applied job/s/
Download LESCO Job Application Forms
---
Frequently Asked Questions
How Can I Apply For Job in LESCO?
If you want to apply for a job in LESCO then it is required to go through the job advertisement first. Mostly LESCO takes applications and test through NTS, so you need to apply for LESCO job through NTS official site, if there is any open vacancy available.
Are There Any New Jobs Available in LESCO?
To check the available jobs in LESCO, visit the LESCO or NTS official website.
What is NTS?
NTS is a national testing service provider in Pakistan, which is conduct academic, jobs and performance evaluation test. NTS is offering two types of test, 1st is National Aptitude Test (NAT) and 2nd one is Graduate Assessment Test (GAT). LESCO also use NTS services to conduct test for their candidate and announce the results accordingly.