Please insert your LESCO Reference Number to download LESCO duplicate bill:
Check LESCO Bill Online
Incase if you didn't receive your LESCO WAPDA bill (also known as LESCO Electricity Bill or LESCO Consumer Bill) though LESCO official member or you have lost your LESCO bill, then don't worry you can still get it through our online bill check option and can get the duplicate electricity bill by using our online service.
Requirements
Below are the info required to check your electricity bill online:
Reference Number
Consumer ID
Where to Get These Numbers
These numbers (Reference No. and Consumer ID) are printed on the top of your bill, see below image: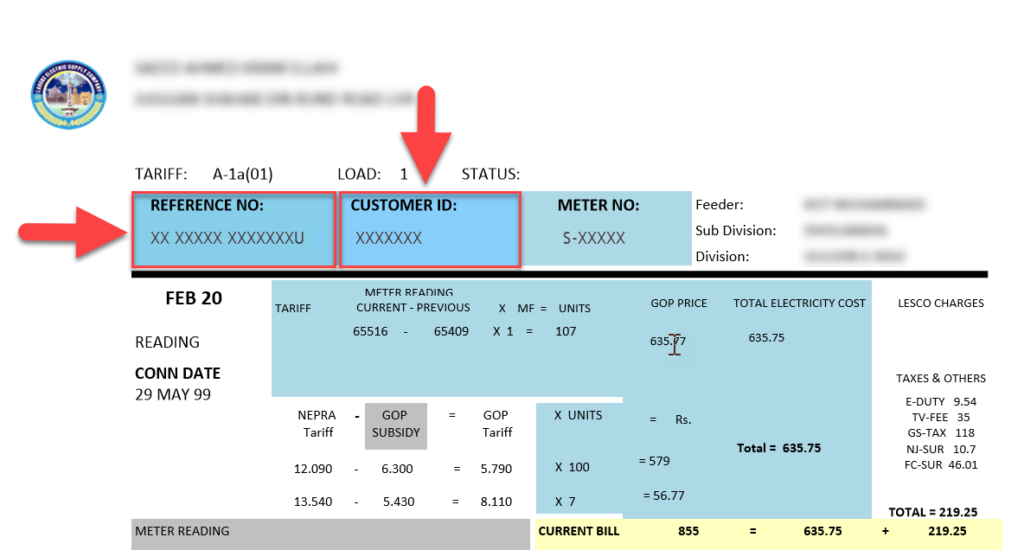 Format of reference number is XX XXXXX XXXXXXXX, which include 14 digits and one alphabet. Same as customer ID have 7 digits and it only includes number into it.
Options to Check LESCO Bill
Now you have both numbers Reference Number and Consumer ID, which means now you have two options to check your electricity bill online. Other then these two options there is another option to check the bill related info through SMS or Email. Let's discuss all these options:
Option 1: Check Bill with Reference Number
You need to insert you 15 digits bill reference number in the form and submit the process button. It will show you the duplicate bill against your given reference number, see below image:

Option 2: Check Bill with Consumer ID
You have another option to check your LESCO bill through your Consumer ID. You simply need to insert 7 digits (consumer id) in the required filed and submit the Process button. It will result your LESCO duplicate bill against that inserted consumer ID, see below image:
Option 3: LESCO SMS & Email Service
LESCO is also offering free of cost SMS and Email services to provide electricity supply and billing information to the valued customers. To register for this free service you need to follow below steps:

Step 1: Visit this page
Step 2: Select service: Email only, SMS only or both if you want to be get notified through both SMS and Email
Step 3: Insert your 7 digits consumer id
Step 4: Insert your mobile number in said format (e.g 923001111111)
Step 5: Insert your email id and press submit/update button, that's it.
LESCO Bill Calculator/Estimator
LESCO is also providing you the feature to calculate your electricity bill online. To calculate your LESCO Bill use LESCO Bill Estimator.
Here you need to simply provide some required info and press the submit button to see the estimated electricity bill. Want to calculate your bill, visit this link.
Where You Can Pay the Bill
Once you have LESCO duplicate bill then you can submit it through online or offline both options:
Pay Offline: You can pay your LESCO bill to all the branches of commercial banks and post offices. Make sure to bring your bill printed copy along with you.
Pay Online: You can also pay LESCO Bill online through any bank, EasyPaisa or JazzCash. For bank options make sure you have online banking service activated on your account.
---
Frequently Asked Questions
How Can I Check My LESCO Bill?
To check LESCO Bill you simply need to visit this link and insert your Bill Reference Number or Consumer ID to check your electricity bill. It's 100% free to check your bill.
How Can I Get LESCO Duplicate Bill?
To get your LESCO duplicate bill you need to visit this link, type your Reference Number or Consumer Number and hit submit button. Now you will get bill downloaded in PDF format. Open that PDF file and press Ctrl + P to get the duplicate bill.
How to Calculate LESCO Bill?
To calculate your LESCO bill, visit this link. Insert the requested details like Connection Type, Phase Type, Off-Peak Units, Meter Rent (If Applicable), Service Rent (If Applicable), Areas, No. of TV sets, Sales Tax for Retailers Exempt, ED Exempt, GST Exempt, ETax Exempt and Additional Sales Tax to Marble and Granite Industry and press submit to get the estimate. Easy Peasy!