Sometimes, It is possible that our bills might get delivered late, or even if they get delivered on time we may lose them or something else occurs. In order to solve all of your problems, you can now easily view your Mepco duplicate bill online through their online website. All you have to do is enter the reference number from your bill and your duplicate bill will be generated in just a matter of seconds.
What is MEPCO?
MEPCO (Multan Electric Power Company) is the largest power distribution company in Pakistan. It's an electric distribution company which supplies electricity to 13 districts of South Punjab, Pakistan. It's owned by WAPDA (Water and Power Development Authority).
Areas that MEPCO provides electricity to:
Multan
Khanewal
Sahiwal
Rahim yar khan
Rajanpur
Bahawalpur
Dera Ghazi Khan
Layyah
Bahawalnagar
Nehari
Muzaffargarh
Pakpattan
Lodhran
Getting the MEPCO Duplicate Bill
In order to get a duplicate copy of your MEPCO Bill you have to follow these instructions step by step:
First, you have to get a hold of a recent MEPCO Bill of yours and have a look at the reference number that is displayed on top. Make sure the reference number is up to date by taking out the latest bill since the numbers have been changed recently.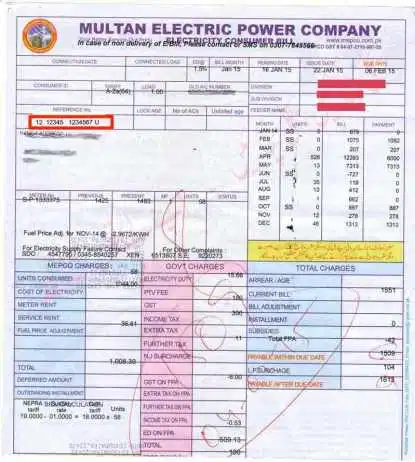 The Reference Number is a 14 digit numeric code, located on the top left of your bill. (As shown in the red highlighted box in the picture above).
Then open the link: http://210.56.23.106:888/mepcobill/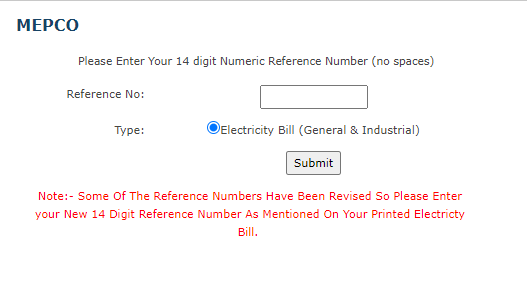 Now enter the reference number (no spaces) in the box and your bill will be generated in just a couple of seconds.
Once your bill is generated you can easily inspect it and print a copy to even submit it at the nearby bank.
MEPCO Helpline
If you're facing any other issue related to your bill or having problems with your electricity supply. You can now easily contact MEPCO in order to solve all your queries.
Call: 920619220313

Email: complaint@mepco.com.pk

Address: MEPCO complex. Khanewal road MEPCO colony, Multan Punjab.